Network Penetration Testing
Know your network: know how to secure it
Many organisations have little to no understanding of what sits within their internal networks. Insecure file shares, unpatched or vulnerable desktops, servers, firewalls, printers and telephone systems all provide opportunities for compromise from both internal and external bad actors.
This problem can be especially true of companies outside the technology industry: for firms providing services such as law, accountancy & consultancy, and traditional sectors for instance in construction, haulage, manufacturing and logistics.
What is network testing?
The goal of network testing is to simulate actions used by a hacker to break into computer networks and any connected devices. The end goal is to strike a balance between robust network security while supporting good business practices. To understand where vulnerabilities lie, it's important that companies firstly can understand what elements exist in their network.
Our human-centric approach to network testing
Our team will help you to see the forest for the trees, first by understanding what elements exist in your network that may be open to compromise.
Following our automated and manual testing, we'll provide effective, realistic and business-oriented recommendations. Our advice will enable improved security from real-life threats and issues.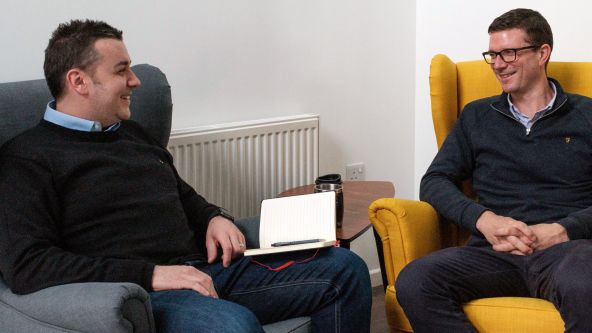 How we helped a Credit Union secure their network
What was the network security issue?
Significant amounts of data are created, used and retained by Credit Unions and similar organisations. Data retained in plain text and available to all within the network can be identified, in some cases this includes credit card or other sensitive personal data.
What was our network testing diagnosis?
The sensitive financial data required a far more robust, secure storage method to secure it from potential compromise
What network security solution did we implement?
We recommended implementation of two-factor authentication, encryption of sensitive data and additional measures to enable employees to access data that they needed, while also keeping it secure from network-level cyber attacks
Securing an accountancy network
What was the network security issue?
Insecure data backups
What was our network testing diagnosis?
All of the company's email and database backups were left available for anyone to read. This included legal information about companies that were in the process of declaring bankruptcy.
What was our network security solution?
We recommended the implementation of a system of user profiling to ensure only certain levels of users had access to data backups. We ensured all backup data was stored securely and was only available until the next backup.
Need help?
Or send us a quick message